Battles of Westeros Series
Battles of Westeros Series
Unfurl the banners of the Great Houses of Westeros! To secure power in the Seven Kingdoms and to ensure the survival of their lines, the Houses of Westeros each follow very different paths. Some forge strategic alliances, some create complex political intrigues, and still others use deceit and betrayal. But there is no more direct or lasting path to power than taking to the field of battle.
sold out
In this epic board game of battlefield tactics, players control either House Stark, the wards of Winterfell who have called their hearty allies to defend their honor and lands, or House Lannister, an aggressive force funded by Casterly Rock's endless supply of gold. Featuring over 138 detailed plastic figures and bases, 110 cards, a gorgeous double-sided six-panel board, over 32 map overlays, and much more, Battles of Westeros provides everything players need to relive the excitement and intrigue of the wars for the Iron Throne... and with their favorite Stark and Lannister characters. Westeros is one of the continents in the A Song of Ice and Fire series by George R.R.Martin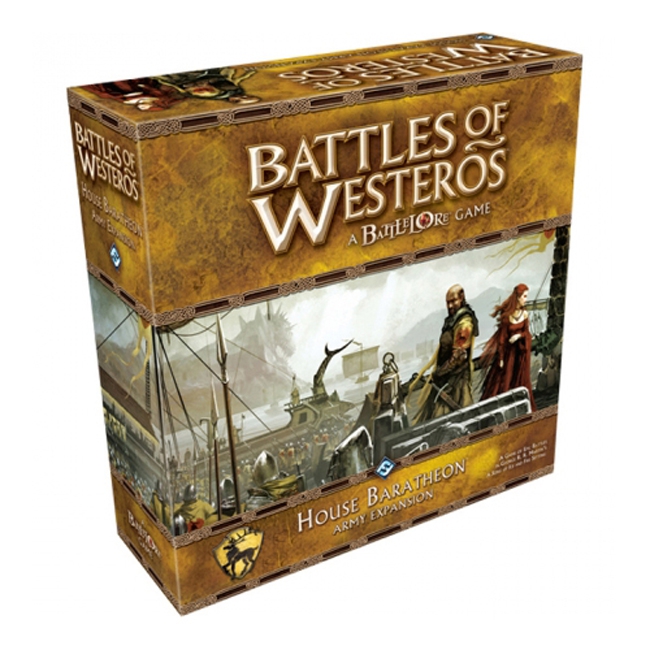 House Baratheon Expansion
For the first time, the seasoned forces of the crowned stag take to the field of battle to defend their claim to the Iron Throne! In the House Baratheon Army Expansion for Battles of Westeros, you can unleash the Baratheons' fury with eight mighty commanders and over 100 detailed troop miniatures. An epic battle awaits you on the stunning Blackwater map, and innovative rules for Alliance battles allow up to eight players to clash in the deadliest of conflicts.
Brotherhood Without Banners Expansion
Brotherhood Without Banners introduces players to a new ally force with which to supplement a primary House's forces! With new unit types, a rulebook with four new scenarios, new cards, new commanders (Lord Beric Dondarrion, Anguy the Archer, and Thoros of Myr), and even more, this expansion will bring greater variety to your Battles of Westeros experience and awesome power to your House's cause. Unlike other Battles of Westeros sets, Brotherhood Without Banners does not include any banner or pole components, as these outlaw warriors neither answer to a liege lord nor ride under any flag. Instead, these units do not follow normal activation rules and are controlled by an innovative a new mechanic: Brotherhood tokens.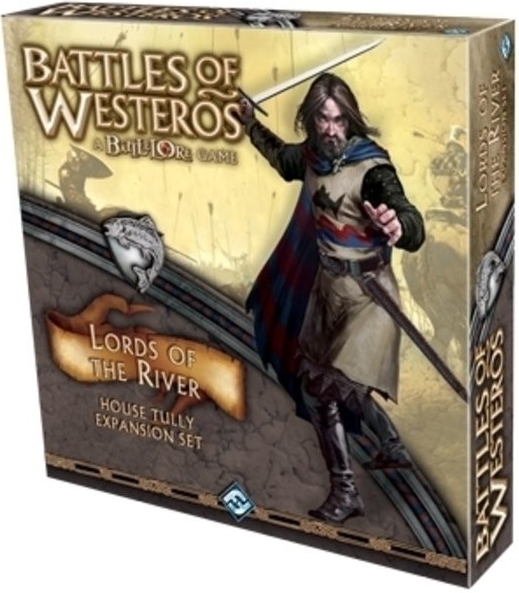 Lords of the River Expansion
War has come to the Riverlands! Rally the banners of House Tully with the Lords of the River ally force expansion for Battles of Westeros. Lead your troops to battle with Edmure Tully, Brynden "Blackfish" Tully, or Marq Piper, and lay waste to your foes with Tully River Riders, Tully Longbowmen, and the Warriors of Wayfarer's Rest. New keywords such as Riverborn and Indirect Fire will give you an edge when fighting near rivers or hindering terrain, representing House Tully's familiarity with fighting in the Riverlands. In addition to these new forces, Lords of the River also comes with a rules and battle plan book, new terrain, and House Tully Gambit and Skirmish cards. Lords of the River will also be the first expansion to feature the new Battles of Westeros Premium Banners, replacing the cardboard token banners from the Core Set.
Tribes of the Vale Expansion
Born in the cruel climate of the Mountains of the Moon, the clansmen of the Stone Crows, Black Ears, and Burned Men are of a violent breed. Uncivilized, uncouth, and unrefined, these men and women live to kill, and they do it well.
Tribes of the Vale introduces the clansmen to Battles of Westeros as an ally force, meaning they can supplement House Lannister or, if playing with the Skirmish rules, House Stark from the Core Set. Ally forces such as those found in Tribes of the Vale are represented as tan colored miniatures on the board, differentiating them from the forces of the house they are supporting. This provides greater customization for Skirmish battles and allows players to easily find their allied troops on the field during battle.
Included in Tribes of the Vale are are three new commanders and three new unit types. Shagga, Son of Dolf is a ruthless barbarian of the Stone Crows, capable of wielding two massive battle axes better than some men handle one. Timett, Son of Timett earned his place as the Red Hand of the Burned Men by taking out his own eye. A fearless expert swordsmen, Timett rarely fails to kill anyone he means to. Finally, Chella, Daughter of Cheyk is a vicious woman, decorating herself with the ears of her enemies.
In addition to these new forces, Tribes of the Vale also comes with a rules and battle plan book, new terrain, and Clansmen Gambit and Skirmish cards.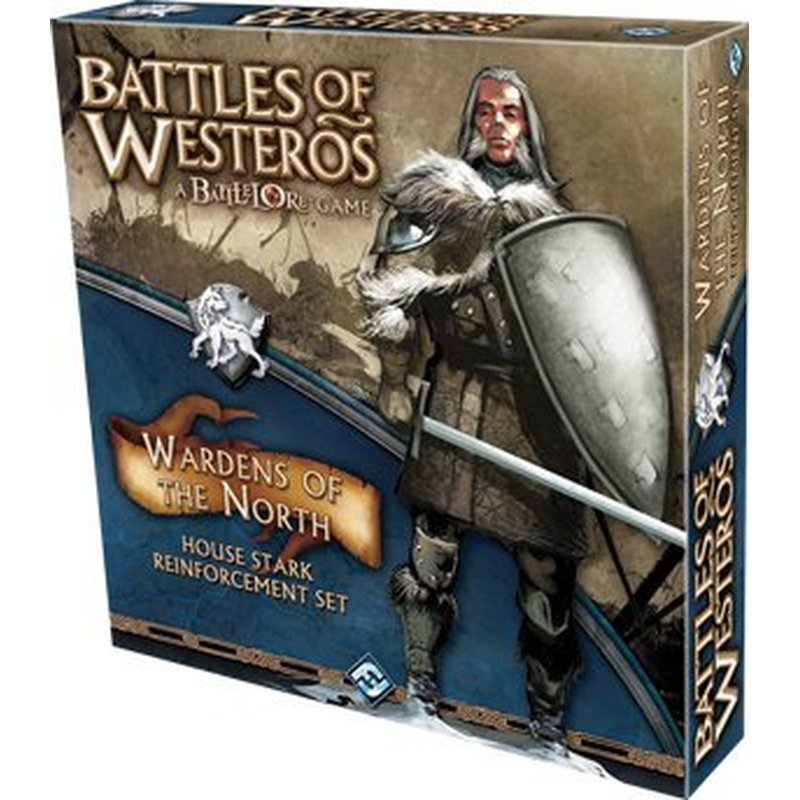 Wardens of the North Expansion
"Winter is coming..." -House Stark motto Expand your House Stark forces in Battles of Westeros with this brand new reinforcement set. Featuring three new commanders and three new unit types, Wardens of the North gives players greater versatility when building and fielding their Stark armies. Wardens of the North adds more than 30 new plastic miniatures and over 30 new cards. It also includes a Rules and Battle Plans book as well as more terrain overlays, banners, and tokens. Additionally, Wardens of the North also introduces new game mechanics, such as the new Defend tokens, Marsh terrain, and new Gambit Cards! Included in this expansion: • Three new commanders and three new unit types for House Stark • New game mechanics - Gambit cards, Defend tokens, and Marsh terrain • Additional tokens, banners, terrain overlays, and cards • Rulebook with new Battle Plans